ABOUT US
In collaboration with Wild Groves, the most awarded olive oil company in California, we have created what we believe to be a "magical elixir," CBD infused olive oil. The health benefits of extra virgin olive oil combined with CBD make it a health superstar. Extra virgin olive oil is a superfood with incredible health benefits due to its high amount of polyphenols, known as antioxidants. EVOO is heart healthy, helping to protect cells in your body from aging and reduces inflammation. CBD is known for many of the same health benefits, and may reduce inflammation, decrease stress and relieve anxiety. The result is a power duo that can be consumed daily.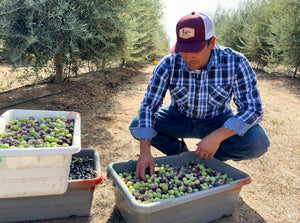 Our products are made of the highest quality ingredients, fresh, flavorful and good for the body and soul. We use California Grown Extra Virgin Olive Oil produced by Wild Groves (also owned by Dewey & Family).  

Founder Dewey Lucero and family represent the fourth generation of Lucero olive farmers, producers, tasters, and blenders. It's safe to say that they have olive oil running in their blood!  
THE FOX & THE RAVEN
Dewey grew up in the family olive grove - playing, working and enjoying life, which is where the inspiration for this new brand was born. A family of fox has lived among the olive trees in the Lucero Family Grove for decades now, watching over the land. Then there are the mighty ravens (black birds). Many times you only hear them, or see them flying in the blue sky above, but Ravens have also been living in our olive grove for decades. Their homes are in the canopy of these ancient trees, and they know these trees better than anyone else. The Fox and Raven are majestic creatures, one with the olive grove. We have often talked about how they might be best friends, and what fun they have, joking & pestering each other, one from below and the other from above, both enjoying the synergy of life in the olive grove.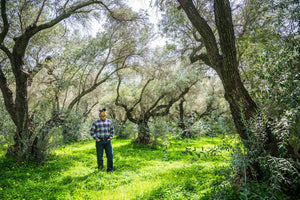 Image with text
Use these sections to promote a particular feature with editorial photography.
ASPIRE TO BE HEALTHIER
Incorporate Raven Groves into your daily wellness routine.

Image with text
Use these sections to promote a particular feature with editorial photography.