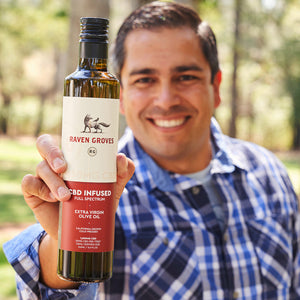 CBD Infused Olive Oil
In collaboration with Wild Groves, the most awarded olive oil company in California, we have created what we believe to be a "magical elixir," CBD infused olive oil. The health benefits of extra virgin olive oil combined with CBD make it a health superstar.  Extra virgin olive oil is a superfood with incredible health benefits due to it's high amount of polyphenols, known as antioxidants.  EVOO is heart healthy, helping to protect cells in your body from aging and reduces inflammation.  CBD is known for many of the same health benefits, it may reduce inflammation, decrease stress and may relieve anxiety.  The result is a power duo that can be consumed daily.  Aspire to be healthier; incorporate Raven Groves into your daily wellness routine.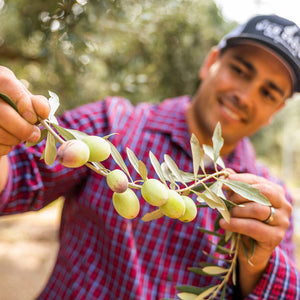 Made with Award Winning Extra Virgin Olive Oil
We have collaborated with Wild Groves to create our new full spectrum CBD infused olive oils. Our extra virgin olive oils are fresh, California-grown by local farmers in Northern California that Wild Groves has worked with for nearly 20 yrs. Managing all aspects of harvest, transportation & milling. Most importantly our extra virgin olive oils are double certified by the California Olive Oil Council (COOC) and Applied Sensory Panel.